Dropship
Tool/Weapon Information
Function
Transporting Heroes
User(s)
Pilots/Heroes
Status
In use
The Dropships are used for the transport of Heroes.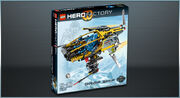 Lego Magazine Bio
Edit
Designed to carry heroes inside their Hero Pods to the scene of the Action, the Drop Ship is armed with a H-Force Launcher and protected by a cockpit Vario-Field. In addition to basic transport, it also provides Air support for teams in hostile areas.
Set Information
Edit
The Dropship was released in Summer 2010.
The Dropship's set number is 7160.
The Dropship set contains 390 pieces.