Furno Bike
Tool/Weapon Information
Function
Traveling/Fighting
User(s)
William Furno
Status
In Use
The Furno Bike is William Furno's choice of transport.
Trials of Furno
Edit
William Furno uses his bike to gain the upper hand once Preston Stormer has been downed to defeat Rotor in the Explosives Plant.
It was also used when Stormer was infected with Nanobots by the villain Meltdown. He used it to get to Stormer quicker.
Equipped with a powerful engine, front steering and dual Plasma Blasters, Furno Bike gives rookie team leader William Furno the speed and power he needs to complete even the toughest missions. Includes William Furno!
Lego Magazine Bio
Edit
This two-wheeled experimental cycle is a personal favorite of rookie William Furno. Equipped with Plasma Balsters and a powerful Nucleonic engine, Furno has used this bike in battle against Rotor and other villains. Its success means a cycle-riding Hero Team may be in Hero Factory's future.
Set Information
Edit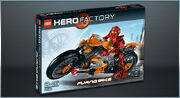 The Furno Bike will be released with William Furno in Summer 2010
The Furno Bike's is set number 7158.
The Furno Bike contains 165 pieces.