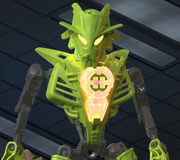 Practice is the first Mission you play in Mission: Von Nebula.
Description
Edit
Mission: Von Nebula
Edit
You will be introduced to all Heroes in Alpha Team. Then you will be asked to go to the computer in front of you. You then need to go and fight a training bot which has been activated. Once that is done the Heroes will explain what your abilities are and what Boosts you have. After that you are attacked by a group of rouge bots which you must deactivate to continue on in the game.
Mission 2: Ordeal of Fire
Edit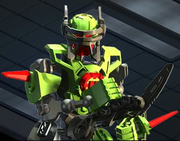 On this level you are introduced to the Alpha Team Heroes. You are directed to a computer in front of you and then must go into a different room. You then fight a single training bot and then a group. Nex then describes to you the functions of your abilities. There is then a group of rouge bots that you must take out using your newfound skills. Stormer reveals to the rookie that there have been many problems in Makuhero City. You are then welcomed to Hero Factory.
Appearances
Edit